Voice Lesson
Online Registration
South Salem Voice & Singing Lessons
Want to learn how to improve your singing voice? How this works:
Anyone can sing! Taking voice lessons with us near South Salem gives you personalized coaching so that you can make the most of your instrument–which is your voice! Your teacher will teach you how to sing in a healthy and correct way so that you will protect your voice as you improve. Your teacher will also help you sing music that you love and that is also a good fit for your vocal range.
We offer a program called "Singing Lessons" for students between the ages of 6 and 12, and voice lessons for students ages 12 to adult:
SINGING LESSONS (AGES 6-12): Our lessons for young singers are designed with great care by our highly trained instructors. It is very important that the young student's voice be developed gradually and in the correct way. Our voice teachers know exactly how to do that. It is also important that young students learn basic musical concepts such as note reading, rhythmic skills, and general musicianship. Our "Singing Lessons" are 30 minutes long and each lesson combines singing with learning to play the keyboard. Both amateur and professional vocalists understand the importance of having a basic knowledge of the keyboard or piano. Among other benefits, it allows students to accompany their vocal exercises. Over time many students also learn how to accompany their singing. Just as with all of our lessons, our voice teachers customize the material for each student. They will help the student select songs that they love, and that are appropriate for their voice and its development.
VOICE LESSONS (AGES 12 TO ADULT)
Many teens and adults take voice lessons in order to improve their vocal technique, learn songs they love, prepare for performances or auditions, or just to sing for fun! Each lesson will focus on warming up and learning essential techniques. Then your teacher will show you how to apply those skills to pieces of music that will bring you joy! Most students start with a 30-minute lesson and then upgrade to 45 or 60 minutes when they want more coaching time with their teacher.
We care about your musical interests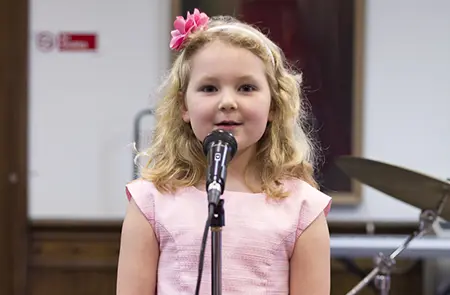 Loving the music you sing is essential to a good voice lesson experience. That is why our teachers will always strive to help you learn the style and types of music you love. And if you don't have one style or type of music you love, our teachers will help you discover it!
Good technique starts here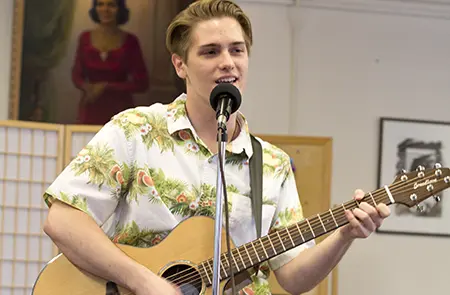 While emphasizing the style of music you love is important, good technique is vital to successful singing. We will always work to make sure that all of our students are not only enjoying their lessons, but learning the "right" way so they can be a successful vocalist the rest of their life. Our voice teachers have thoroughly studied how to train a "healthy" vocal technique that will help the student avoid any physical problems with their voice.
High quality voice teachers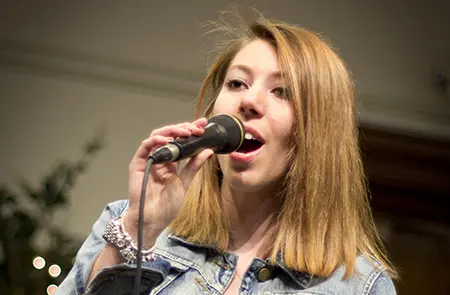 Our goal is to hire the best voice teachers in the area. But more than that, our teachers are fun and engaging and always encouraging to their students. We perform professional background checks on all of our teachers before they are allowed to teach at the Music Learning Center.
Frequently Asked Questions
Interested in a different instrument?
We offer a wide variety of instruments to choose from
We offer a wide variety of instruments to choose from ... click any picture below to learn more