Music Lesson
Online Registration
Adult Music Lessons in Ridgefield
Music Lessons for Adult Learners
Can I learn to play an instrument or sing better…even at my age?
The answer is, absolutely! We have many adult learners at our school. Most were a bit reluctant to get started. There are many "myths" about learning to sing or play a musical instrument. One myth is that you have to start when you are young. We have had many adult students begin lessons well into their 80s, and they have found great joy and satisfaction from it. Our teachers will help you establish realistic goals, and with your input, develop a plan for what you will learn and how you will practice at home.

Aside from the enjoyment of making music, are there other benefits to learning to play music as an adult?
Numerous studies have shown that there are significant health benefits for adults who study music on a regular basis. (Note: Visit our Facebook or Instagram pages for links to several of these studies that we have posted over the years). Some of those health benefits include stress reduction, enhanced memory, and a boost to one's self-confidence. Our adult students also tell us that they enjoy being a part of our "community" of teachers, students, and staff, where we all share in the joy of making music. All of these are wonderful reasons to decide to do something that is also just plain fun!

One-on-one attention
We believe that the best way to learn music at any age is with one-on-one, private instruction. Each lesson is tailored to the way the student learns best. Our teachers take into account age, experience, personality, and other factors as they develop their approach to each person's lessons. In private lessons, adult learners are better able to study the type of music they are most interested in. Our teachers can focus 100% of their attention on that one person. That ensures that you will always be learning the correct hand positioning and posture, or fully grasping the music notation or theory topic being taught. If you are having particular difficulty in one area, the teacher can spend more time on it. Alternatively, if you are excelling in one area, the teacher can move on to another song or topic. We teach 4-year-olds, and we teach seniors…. it's never "too late" to learn how to play music.
We care about your musical interests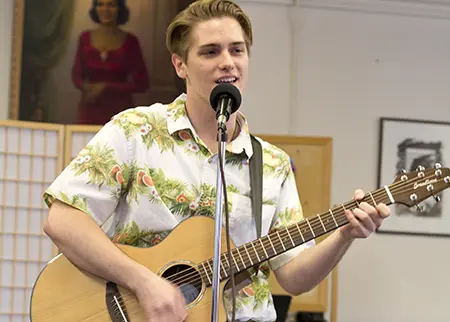 Loving the music you play is essential to a good learning experience for students of all ages. That is why our teachers will always strive to help you learn the style and types of music you enjoy.  And if you aren't quite sure what music might be the most enjoyable to learn, our teachers will help you discover it! Whether you're taking your first lesson, or returning to lessons after many years, or if you are already playing in local bands, we'll develop a plan so that you will achieve your musical goals.
Good technique starts here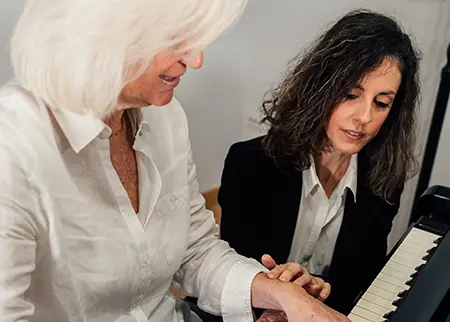 While emphasizing the style of music you love is important, good technique is vital to long-term success playing an instrument. We will always work to make sure that all of our students are not only enjoying their lessons, but that they are learning the "right" way, and developing the techniques that will lead to a lifetime of success.
Our instructors are highly-qualified, have warm personalities and a passion for teaching. Their goal is to help you achieve your dreams of playing the music you love! We search the entire area for talented teachers who also embody the high values at our school. Most importantly, our instructors strive to adapt their teaching to the approach that will work best for each individual student. Our goal is to hire the best teachers in the area. But just as important, our teachers are fun and engaging and always encouraging to their students. We perform professional background checks on all of our instructors before they are allowed to teach at the Music Learning Center.
Frequently Asked Questions
Interested in a different instrument?
WE OFFER A WIDE VARIETY OF INSTRUMENTS TO CHOOSE FROM
We offer a wide variety of instruments to choose from ... click any picture below to learn more